MINUTES OF Extraordinary Meeting
Held at Council Chambers, HORNSBY
on Wednesday 19 May 2021
at 6:30PM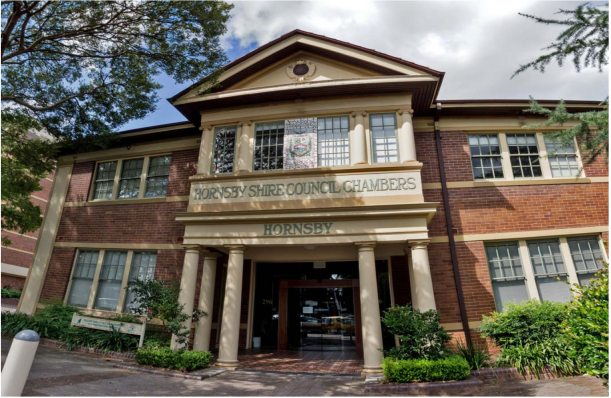 PRESENT
Councillors Ruddock (Chairman), Browne, del Gallego, Heyde, Hutchence, Marr, McIntosh, Nicita, Tilbury and Waddell.
NATIONAL ANTHEM
OPENING PRAYER
The General Manager opened the meeting in prayer.
Acknowledgement of RELIGIOUS DIVERSITY
Statement by the Chairman:
"We recognise our Shire's rich cultural and religious diversity and we acknowledge and pay respect to the beliefs of all members of our community, regardless of creed or faith."
Acknowledgement of Country
Statement by the Chairman:
"Council recognises the Traditional Owners of the lands of Hornsby Shire, the Darug and Guringai peoples, and pays respect to their Ancestors and Elders past and present and to their Heritage. We acknowledge and uphold their intrinsic connections and continuing relationships to Country."
Video and AUDIO RECORDING OF COUNCIL MEETING
Statement by the Chairman:
"I advise all present that tonight's meeting is being video streamed live via Council's website and also audio recorded for the purposes of providing a record of public comment at the meeting, supporting the democratic process, broadening knowledge and participation in community affairs, and demonstrating Council's commitment to openness and accountability. The audio and video recordings of the non-confidential parts of the meeting will be made available on Council's website once the Minutes have been finalised. All speakers are requested to ensure their comments are relevant to the issue at hand and to refrain from making personal comments or criticisms. No other persons are permitted to record the Meeting, unless specifically authorised by Council to do so."
APOLOGIES / leave of absence
Nil
political donations disclosure
Nil
declarations of interest
Nil
Nil
petitionS
Nil
presentations
Nil
Rescission Motions
Nil
Mayoral Minutes
Nil
GENERAL BUSINESS
Office of the General Manager
Nil
Corporate Support Division
Nil
Community and Environment Division
Nil
Planning and Compliance Division
Nil
Infrastructure and Major Projects Division
1 IM5/21 Request for Tender RFT11/2020: Hornsby Quarry Rehabilitation Works Including Bulk Earthworks
(F2020/00111)
RESOLVED ON THE MOTION OF COUNCILLOR Tilbury, seconded by COUNCILLOR Browne,
THAT Council accept the tender of Ditchfield Contracting Pty Limited for RFT11/2020 - Hornsby Quarry Rehabilitation Works Including Bulk Earthworks.
FOR: Councillors Browne, Del Gallego, Heyde, Hutchence, Marr, McIntosh, Nicita, Ruddock, Tilbury and Waddell
AGAINST: Nil
PUBLIC FORUM – NON-AGENDA ITEMS
Nil
Questions on Notice
Nil
Mayor's Notes
Nil
Notices of Motion
Nil
MATTERS OF URGENCY
Nil
THE MEETING concluded at 6:35pm.
These Minutes were confirmed at the meeting held on Wednesday 9 June 2021, at which meeting the signature hereunder was subscribed.
CONFIRMED CHAIRMAN
______________________________________________________________________________