SUPPLEMENTARY
BUSINESS PAPER
General Meeting
Wednesday 13 September 2023
at 6:30PM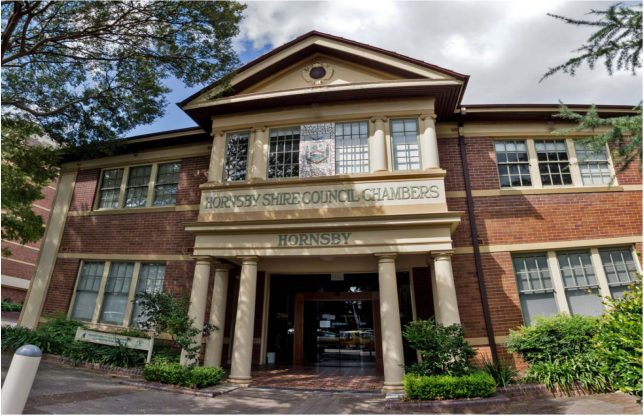 Hornsby Shire Council Table of Contents
Page 1
SUPPLEMENTARY ITEMS
Item 13 MM5/23 Review of Gas Connections in New Buildings.................................................. 1
Item 15 QWN2/23 Response to Question with Notice No. QWN2/23 - Synthetic Turf................... 3
Mayoral Minute No. MM5/23
Date of Meeting: 13/09/2023
13 REVIEW OF GAS CONNECTIONS IN NEW BUILDINGS
There has been significant coverage in the media recently about the financial and health benefits of banning gas connections in new developments. However, the NSW Premier, has ruled out a state-wide ban on new gas connections following the announcement of a ban in Victoria, which will take effect in January 2024, and the ban in the ACT which starts in November.
As a state-wide ban is unlikely to be progressed, I have received representations from members of the community suggesting that Council should initiate its own actions to address the issue. I am aware that both Parramatta City Council and Waverley Council have implemented new planning rules which restrict the installation of gas appliances in new residential and commercial developments in their local government areas.
The arguments in support of banning gas are widely documented and include health, economic, and environmental benefits. It is appropriate that we consider these benefits for our local community as gas is becoming increasingly expensive and more than one quarter of households are reporting they are struggling to pay power bills. We should also be responsive to exploring opportunities to address concerns that gas is toxic for human health, especially when used indoors for gas heating or gas cooking.
Hornsby Shire Council has a proven track record of investigating environmental sustainability initiatives. Specifically, our Sustainable Hornsby 2040 Strategy includes a Climate Wise Hornsby Plan which outlines the importance of reducing greenhouse gas emissions to mitigate the effects of climate change and assist the community to adapt to a changing climate. Therefore, it would be appropriate that Council reviews the environmental, health and economic benefits of banning gas as we seek to reduce our emissions.
Accordingly, an Informal Councillor Briefing should be conducted with Councillors to discuss the advantages and disadvantages of introducing a ban on gas connections in new developments in Hornsby Shire and the legislative planning powers available to Council to implement any controls.
THAT an Informal Councillor Briefing be conducted with Councillors to discuss the process, implications, and timeframes for preparing potential amendments to relevant Hornsby Shire Council development controls which would require new residential and non-residential developments to be electric and gas-free.
The Honourable Cr PHILIP RUDDOCK
Mayor
There are no attachments for this report.
File Reference: F2007/00247-03
Document Number: D08727754
Question with Notice No. QWN2/23
Date of Meeting: 13/09/2023
15 RESPONSE TO QUESTION WITH NOTICE NO. QWN2/23 - SYNTHETIC TURF
Response to Question with Notice raised at the General Meeting held on 09 August 2023.
ASKED BY COUNCILLOR Ball
TO THE Director Community and Environment:
1. Could officers provide a full list of all the materials, compounds and chemicals that are used and found in synthetic turf and infill - both added and incidental from manufacturers of best practice synthetic turf that might be considered in the future for use by Council at sportsgrounds. The requested information should be more detailed than the Safety Data Sheets or Material Safety Data Sheets as they do not contain the full list of components.
2. Could officers provide any end-of-life recycling or disposal options provided by synthetic turf manufacturers.
3. Could officers provide a full list of chemicals, compounds and materials recommended for the installation and maintenance of a synthetic turf sportsground.
Response
Following Councillor Ball's Question with Notice, officers have reached out to three major synthetic turf providers seeking information to provide a response.
At the time of drafting this Report, a response has been received from one supplier as follows:
Question 1: The supplier provided a Material Safety Data Sheet for LLDPE-Grass Yarn, chemical characterisation LLD Ethelyne/1-Hexene Copolymer, CAS-No: 21213-02-9. A copy of the MSDS is provided at Attachment 1.
Question 2: Re4orm recycling (https://re4ormrecycling.com.au), an end-of-life recycling facility for synthetic turf is presently under construction in Barnawartha near the Victoria/NSW border. Re4orm advise that the facility is scheduled to open in the 1st Quarter in 2024. When operating the facility will process approximately 7,000 tonnes of used synthetic turf each year. Materials able to be recovered at the facility include sand, styrene-butadiene rubber, polyethylene fibre and polypropylene. This material is then available for reuse in other products and industries.
Question 3: Synthetic field maintenance guidelines provided to Council in response to the Question with Notice recommend the following maintenance regimen.

The maintenance guide also provides that any weeds identified (particularly on the edges of the field) are best removed by hand by pulling them up by the roots. The guide further note that if weather permits (it will need to be sunny and dry for at least 3 days), the weeds may also be destroyed using a biodegradable weed killer and must then be removed.
A copy of the guideline is provided at Attachment 2.
Should further responses be received from other synthetic turf providers, officers will also provide this information to Councillors.
| | | | |
| --- | --- | --- | --- |
| 1.⇩ | MSDS - LLDPE Grass Yarn | | |
| 2.⇩ | Maintenance Guidelines for Synthetic Fields with Performance Infill | | |
File Reference: F2004/08918-02
Document Number: D08698395